"I am fascinated by personal style. Just as a novel, a poem or a painting reflects the artist, fashion shows us the artist within."
Jewelry designer Susan Alexandra's "About" page is one of the most captivating we've read, only overshadowed by the explosive creativity of her work itself. With pieces that incorporate vibrant hand-painting, sculpting, and vintage elements, it's easy to see that this is a woman with a strong point of view, who isn't afraid to be loud about it.
When we found out that Susan originally hails from Chicago, well, that was just icing on the friendship cake we were already baking for her.
Susan was awesome enough to take a little time away from her burgeoning business to give you an inside look at her amazing creative life, and make a few selections from our current auction site. For more, be sure to follow her on Instagram & Facebook, and shop her collection online while you're at it!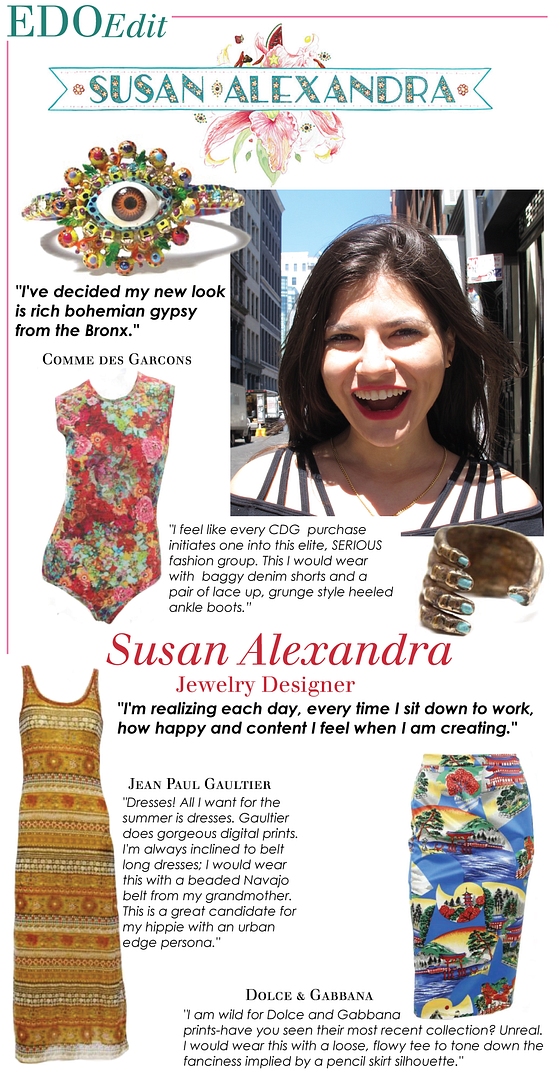 Shop Susan's EDO Picks:
Comme des Garcons Multi Color Floral Sleeveless Body Suit
Jean Paul Gaultier Soleil Golden Yellow & Multicolor Mesh Maxi Dress
D&G Dolce & Gabbana Blue & Red Satin Scenic Print Pencil Skirt
Shop Susan's Jewelry:
FRIDA!!! Bracelet
Baby Hold On Ring – Powder Blue Nailz
EDO: When did you know you were meant to design jewelry & why?
SA: After I graduated from college at Columbia College Chicago I was in this unpleasant mid 20's rut. Not really sure what I wanted to do or where I wanted to go. Art had always been my outlet and I had completely abandoned that aspect of myself. I moved to NYC from Chicago in 2009 and the pressure to know who I was and what I wanted from life and to do with my life built up greater and greater. It was (and still is) really scary. About 1 year ago I had a series of small epiphanies.  I have always been jewelry obsessed-since I was a wee little girl. Why not try to make a go of it? I took a very basic metal working class and the creative energy just started flowing like crazy. I made a wonky metal ring and to cover a very obvious seam, I painted over it. And then I was like…"oh, I sorta dig how this looks!". That's how the painted jewelry style came to fruition.
I'm realizing each day, every time I sit down to work, how happy and content I feel when I am creating.
EDO: Who or what has been your biggest source of inspiration?
SA: Frida Kahlo. I may or may not have been her in a past life. COLORS! Colors and flowers and fruits. Anything just totally vibrant and girly speaks to me. When I first moved to Chicago I worked at this awesome dutch store on Michigan Avenue called Oilily. Everything had a floral print, and I realize now how huge of an impact the many wild floral prints had on my aesthetic. And also, hip hop music. Specifically anything trap.
EDO: We heard you love sharp juxtapositions in your personal style. Can you describe a few of your favorite looks that fall into that description?
SA: I've decided my new look is rich bohemian gypsy from the Bronx. Think sheer gauzy floral gowns from the 1970's worn with a pair of giant door knocker earrings, Nike Air Maxes and a Been Trill snapback or an embroidered hat from my website.
EDO: As a former Chicagoan, what do you miss most about our beloved city?
SA: I miss going out anywhere and seeing people I know and love. I miss my wonderful friends. I miss sitting outside at Milk and Honey in the summer and having brunch. And most of all, my ridiculously amazing apartment on the corner of Hoyne and Division. It was a palace. I'm born and bred in the Midwest and have a softspot for all things Midwestern.
EDO: Best part about living & working in NYC?
SA: I think that if I hadn't moved here I would have never pushed myself to take my passions to the next level and make them a career. This is where it all happens. I can meet a fashion editor at dinner and they will request my jewelry the next day. Things HAPPEN here. I love this city. It is shaping me into the person I am meant to be.
EDO: What's next for you?
SA: More jewelry! Branching out into more designs-the perfect stud, necklaces, rings. Then hopefully clothing! I was approached by some big brands to collaborate which was mind blowing to me.
I want to help people who are as lost and confused as I was when I first moved to NYC. I also want to employ disabled and homebound people.  I want to make the world a better place. Cliche, I know, but I mean it.