Fine jewelry designer Wendy Brandes is our fabulous guest editor today! She is the 2012 winner of Fashion Group International's Rising Star Award for fine jewelry. Her jewelry has been worn by Rihanna, Britney Spears,  Hayden Panettiere and "Impossible" singer Shontelle; it's also been featured in magazines including British Vogue and InStyle.
Wendy's history-inspired 18K gold and platinum signature line is known for its "covert luxury," featuring hidden gems and moving parts. Her WENDYB by Wendy Brandes diffusion line reflects her interest in social media, an area in which Wendy led the industry when she launched her humorous and frank blog in 2007. You can also find her online via Twitter, Facebook, Pinterest, Instagram and Pheed.
In addition to making EDO auction picks, we are also featuring a few of Wendy's "Venus" pieces for sale right now! Be sure to check them out here.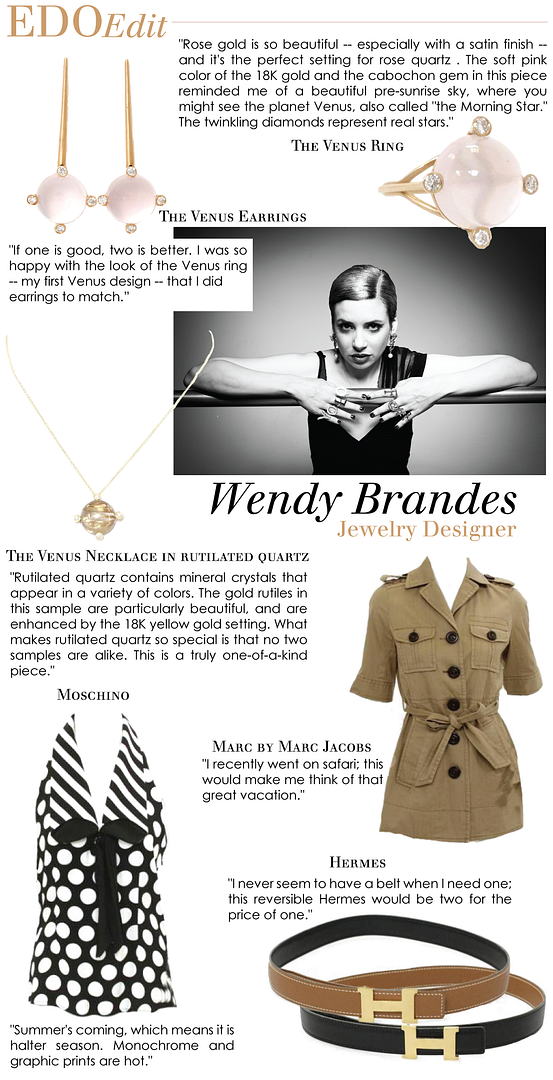 Shop Wendy's Designs:
Wendy Brandes 18K Rose Gold & Diamond Venus Ring
Wendy Brandes 18K Rose Gold Quartz & Diamond Venus Earrings
Wendy Brandes 18K Gold Rutilated Quartz & Diamond Venus Necklace
Shop Wendy's Auction Picks:
Moschino Cheap & Chic Black & White Polka Dot & Striped Halter Top
Marc by Marc Jacobs Tan Cotton Short Sleeve Safari Jacket
Hermes Brown & Black Leather & Gold Plated H Buckle Reversible 24mm Belt
EDO: What motivated you take the leap into expanding your business in 2005?
WB: I started my career in journalism but after 11 years, I left to become managing editor of websites for an investment bank. My original plan was to save some money for retirement at this better-paying job, and then go back to journalism. But when the time came, that seemed so boring! Why not have an adventure instead? I had already started designing jewelry for myself, so I decided to put my investment-banking money into a plan to design jewelry for everyone else.
EDO: So many celebrities wear your designs – was there anyone in particular that REALLY made you freak out about it?
WB: Nothing beats the time when Britney Spears — during the worst of her troubles — left a magazine shoot without permission while still clad in a bunch of high-end designer pieces, including my gold-and-diamond Borgia poison ring. I was freaking out, but not with joy! The magazine eventually made good on it. Around that time, I also had some "interesting" encounters with Lindsay Lohan. I'll leave that to your imagination.
EDO: Do you look to clothing designers for inspiration, and if so, who are your favorites?
WB: I do look to clothing designers — if you count the people who designed clothes for Henry VIII and Elizabeth I. I'm very influenced by historical figures and their clothes and jewelry.
EDO: Favorite piece you've ever made?
WB: I'm really fond of my onyx skull ring. The skull is surrounded by tsavorites — green garnets, one of my favorite stones — and there are diamonds inside the band. But, really, my favorite piece is always the one I'm about to finish.
EDO: Where would we find you on a rare day off?
WB: When you have your business and you're the only full-time employee, there are no real days off. But recently I took a trip to South Africa and went on a great safari. I only had to do a little work in between the morning game drives and the evening game drives.
EDO: What's up next for you?
WB: I'm working on a book about my business experiences.