Gia Jiye Lee is a diaper changing mama by day and fashion maven by night.  She also dabbles in the culinary arts (a HUGE Barefoot Contessa fan), event planning, and home decor (She even has a Houzz feature under her belt!).
Gia shares her many stylish adventures on her blog Dress Up Files. You can get a taste of her style as she wears amazing looks all over Chicago.
Like any good blogger should be, Gia is also on Instagram, Facebook, & Pinterest, too! Be sure to follow her & read on for more on the stylish mom plus her picks from our auctions.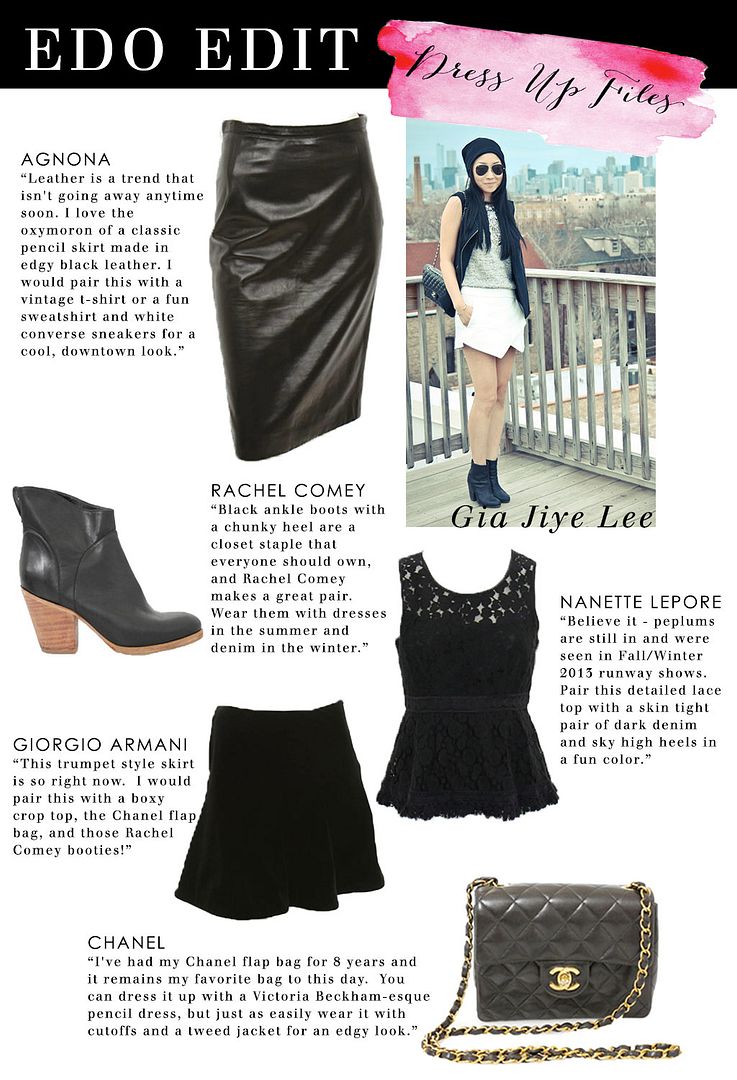 Shop Gia's Picks!
Agnona Black Leather Pencil Skirt
Rachel Comey Black Calfskin Leather Ankle Booties
Nanette Lepore Black Lace Sleeveless Peplum Top
Giorgio Armani Black Velvet Flared Skirt
Chanel Black Quilted Leather & 22K Gold-Plated Classic Mini Flap Bag
EDO: What inspired you to start blogging?
GJL: I graduated from college intending to work in fashion. Somehow, I found myself a stay at home mom at the age of 28. Motherhood can be all-consuming and I saw moms everywhere neglecting their personal interests and passions. I started this blog within weeks of giving birth to my first daughter. I truly feel so blessed and privileged to be a mom to my gorgeous girls. This blog and keeping my toes in fashion has helped keep my passions alive and in turn, has made me a happier, more fulfilled mother.
EDO: If you had to wear one designer for the rest of your life- who would it be and why?
GJL: It would probably have to be Phillip Lim.  I love that his clothes look edgy and downtown but are still pretty and flattering. His collections are always the perfect combination of cool and effortless. His killer shoes and bags would also ensure that I'm stylin' from head to toe.
EDO: Go-to fashion pieces for a mommy on the go?
GJL: – A great pair of flats (for the fall, motorcycle ankle boots) because moms wearing 5 inch heels to the playground is just ridiculous and unsafe
– High waisted, leatherette jeans (I have the ones by Citizens of Humanity and wear them nonstop!) They're more fun than a pair of blue jeans but so stretchy and comfy.  Extra points for the high waist to keep your post-baby belly pooch at bay.
– A large, chic tote (if your diaper bag has little hippos on it, it's a NO.) I used both the Louis Vuitton Neverfull and the Goyard GM.  Both are great carry-alls, lightweight and can fit a ton of stuff.
EDO: Describe your closet in 3 words.
GJL: Classic, Edgy, Pretty
EDO: Perfect date-night spot in Chicago?
GJL: Wasabi in Logan Square.  A great, hidden gem for melt-in-your-mouth unagi brie sushi (don't knock it until you've tried it!), unbelievable pork belly skewers, and the best Japanese ramen in Chicago (that's right, I said it and I'll say it again). Oh, did I mention it's BYOB?
EDO: What's coming up next for you?
GJL: I'm heading to New York this September to pop my NYFW cherry and I'm finding it difficult to contain my excitement. I will be attending 1 show but honestly, would be more than happy to just stand around and people watch all day long.  Aside from that, I have some collaborations and events coming up with brands like Madewell and a favorite local boutique. Lots to look forward to so I hope you'll follow the blog and journey with me!