Heidy Best has been organizing closets, wardrobe styling, and personal shopping for over twelve years. Her work has been seen on The Oprah Winfrey Show, Chicago's most stylish women, and in editorial publications including CS Modern Luxury, Michigan Avenue, and Today's Chicago Woman. Heidy recently launched her own fashion consulting firm, BECLOTHESMINDED, to tie all of her fashion talents together.
BECLOTHESMINDED is designed to help women look and feel their best at every age, size, and lifestyle. Closet Organization, Styling Seminars, and Personal Shopping are just a few of the services that will alleviate the stress of getting ready in the morning. Being "clothes minded" is not just about how you look but about how you feel when you are getting dressed. At BECLOTHESMINDED, Heidy and her team want you to love "shopping" in your closet. Once your closet passes the test; they'll help you fill in any holes in your wardrobe with some retail therapy.
We're so excited to have Heidy, a longtime friend of eDrop-Off, guest edit our blog and share her priceless tips with you today! For more advice and an inside look at her company, follow her on Twitter and Instagram.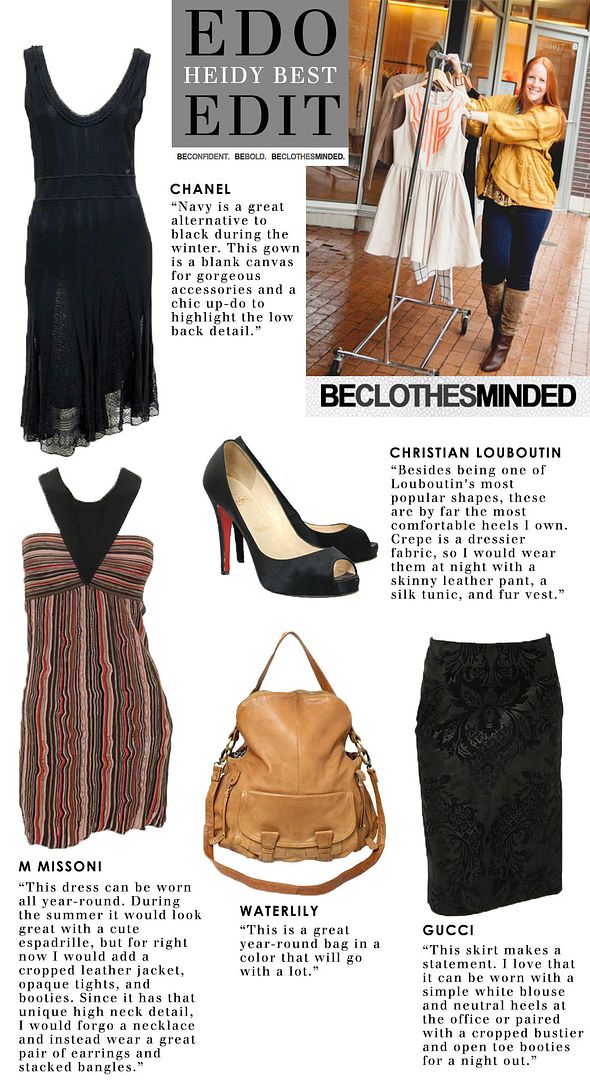 Shop Heidy's Picks!
Chanel Navy Blue Knit Sleeveless Dress 05C
Christian Louboutin Black Crepe Very Prive 110 Peep Toe Pumps
M Missoni Red & Black Knit Collar Sleeveless Dress
Waterlily Brown Leather Convertible Shoulder Bag
Gucci Black Damask Suede Straight Skirt
EDO: What made you decide to take the leap into entrepreneurship?
HB: I wanted to have the time to work with my individual clients in the way that suited their lifestyle. I also didn't want the constraints of working with just one retailer especially if budget was an issue. Since I took the leap my days are split between shopping for clients, planning their outfits for upcoming trips or events, and styling various photo shoots. I love that everyday is different!
EDO: What's the most rewarding part of working with a client who is rebuilding their wardrobe?
HB: I was just talking to my husband about this last night. I took a client shopping yesterday for the first time. She had been on a long stretch of not buying anything new and the longer she waited the more anxiety it gave her to shop. She had seen my recent video on Crain's Chicago Business and called me to set up an appointment to shop. She was so nice but didn't seem to have great self-esteem. I really wanted to change her outlook by showing her how many outfits would look great on her. We ended up going to a couple of stores and I could barely fit her shopping bags into her taxi when we finally said goodbye. That's the best part of my job! Sometimes I can't do it for myself but I think that's just because I save it all for my clients.
EDO: Best advice you've ever been given?
HB: Share your excitement for what you are doing with as many people as you can. You never know how many people will support you.
EDO: Describe your closet in 3 words.
HB: High/Low pieces.
EDO: If you had to wear one designer for the rest of your life, who would it be and why?
HB: I'm a huge fan of Saint Laurent so I can't wait until it opens here in Chicago next month. My favorite color is black and their collection always has so many great silhouettes in my signature color!
EDO: What's coming up next for you?
HB: I will be hosting a holiday shopping event at the Purely Pop Up Shop at the 900 Shops, 4th floor, on November 26th from 6-8pm and will start blogging for Purely in the next month so look out for that!