We're thrilled to welcome one of Chicago's most fashionable women to our guest editor position today! With enviable style, serious ambition, a wildly popular lifestyle site & a law degree in the works, she's truly one to watch. Get to know Amelia!
Amelia Canham Eaton is the creator of The Chicago Life Blog, a popular lifestyle website based, you guessed it, in Chicago.  On the site you can find fashion inspiration, beauty tips, home décor ideas and interviews with both tastemakers and celebrities—including Sophia Bush, Nina Garcia and Simon Doonan, to name a few.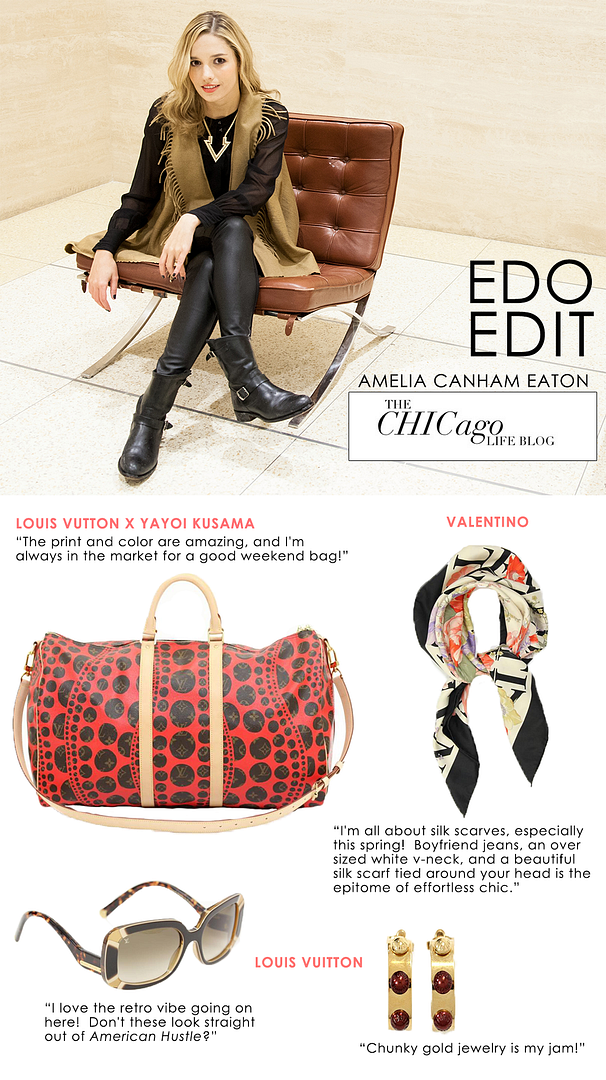 Shop Amelia's Picks!
Louis Vuitton Yayoi Kusama Red Monogram Pumpkin Dots Keepall Bandouliere 55 NEW
Valentino Black Floral Print Silk Scarf
Louis Vuitton Brown Sparkle Oversized Square "Anemone" Sunglasses NEW
Louis Vuitton Gold-Tone & Red Gimme A Clue Hoop Earrings 
EDO: What's been the most rewarding part of running The CHICago life blog?
ACE: Definitely all of the wonderful, inspiring people I've met.  From designers and fashion industry insiders that I've admired for years, to collaborating with other Chicagoans who have then become good friends, TCLB has allowed me to cross paths with so many truly amazing people!
EDO: What advice would you give someone just starting out in the blogging world?
ACE: There are much easier ways to make money!  There seems to be a large misconception that blogging equals quick cash, and this couldn't be further from the truth.  It takes a lot of time, hard work and luck before you start making money, and even once you are making money it's quickly diluted by the enormous amount of time required.
EDO: How do you get inspired on a daily basis?
ACE: Mass media consumption, and our beautiful city!
EDO: Describe your closet in 3 words.
ACE: Evolving.  Eclectic.  Edited.
EDO: Favorite designer & why?
ACE: I'm rather fond of Halston, for a few reasons: 1.)  He spent time in Chicago and got his start at the Art Institute 2.)  He was one of the first (if not the first) designers to realize the demand for affordable pieces from high-end designers.  3.) Does it get more Iconic then Jackie O's pillbox hat?
EDO: Where would we find you on your days off?
ACE: Luckily for me, running TCLB takes me to so many amazing events, restaurants, stores, etc. that when I have a day off you can find me at home with my husband and dogs, in pajamas, with messy hair and no makeup!  My doorman thinks I lead a double life!
EDO: What's up next for you?
ACE: I'm currently focused on finishing up my law degree, with graduation approaching next month!  After graduation, I'm really excited to dive into different freelance writing, marketing, and design projects I have lined up, along with continuing to expand the blog.  You won't find me practicing law as an attorney in the near future, but rather I'm really looking forward to using my newly solidified legal savvy for more entrepreneurial endeavors.
Want even more CHIC content?
Keep up with Amelia on Facebook, Twitter, Instagram & Pinterest!